Featured
UX Design
Code
WorldBuilding
---

PIXELS OF PARTICIPATION

MIT Senseable City Lab |

2020


Instructor:

SCL Teaching Team
Individual Work


Duration:

1.5 month


Tools Used:

Adobe Suite - Photoshop, XD, Illustrator

︎ Problem: Curitiba's reputation of a great green city, with progressive urban planning has prevented proactive citizen participation for the improvement of their city.

︎ Solution: A voting platform housed in a symbol of progressive planning, the public transit tube stops




Problem
How might we most effectively & widely
provoke citizen participationin matters of their city?
---
Approach
01
Define
Background research
Interviews
03
Design
Final Design(personal, urban, technology)
---
Interviews
"The lack of widely available

means to express needs in the city has


created a

sense of lack of belonging

within Curitiba" Priscilla, 43, Architect
"Vandalism

is essentially caused by citizens' lack of participation" Felipe, 29, Student"What is missing is a culture for everyone, even the least proactive, to participate
- there is participation, but it's

always the same people" Gabriella, 56, Government Worker︎ Problem 1:

Means of voting/participating are not widely available

︎ Problem 2:

Always the same people voting/participating in OPPs.

︎ Solution:

embeding voting within a public infrastructure, and provoke participation.
---
Iterations
First iterations: physical voting cards that would be placed on the walls of the tube station.
To provoke participation, 5 different ideas were explored, in parallel interviews were conducted with first iterations.

"Physical cards might reinforce vandalism" Julia, 29, Student

"Sponsoring ads might be a problem to some, that might imagine that


these

private companies are benefiting from responses" Angelo, 35, LawyerCitizens

view other people's opinions, prompting them to respond, or think of their own opinion. They are also awarded: for every 10 votes,

a free bus ticket. And as citizens give their opinion on a specific topic, they are also participating in

creating art

within the tube stops of the city.
---
Design

1. Regional vs city scale topics


Different topics can be addressed in each tube station, to tackle a city scale concern or a region-specific concern: from health, justice, citizenship, environment, family/justice, security, government, economy, education, relationships and more.
︎ Inside interaction: scan QR, respond, like, comment, make art
︎ Outside interaction: scan pixels, view responses, like



Visitors scan QR codes to give their opinion on subjects, that get posted on the tube wall - these become tokens that extend their participation into producing the art. They are able to take the token to another more prefered tube station to activate the pixels of the art.
Basic Mockup of first interactions in the tube stop




A mobile AR interface allows passersby to scan the view of the façade and read the responses from outside, expanding the reach of political opinion beyond the limits of the station.


4. Technology



An AI camera detects different age groups of voters. Additionally, a projector shows the QR codes, voter responses and the artwork. The outward facing layer is an LED screen that showcases the artwork of the artist in question and the pixels that pertain to the different demographics.



5. Data Collection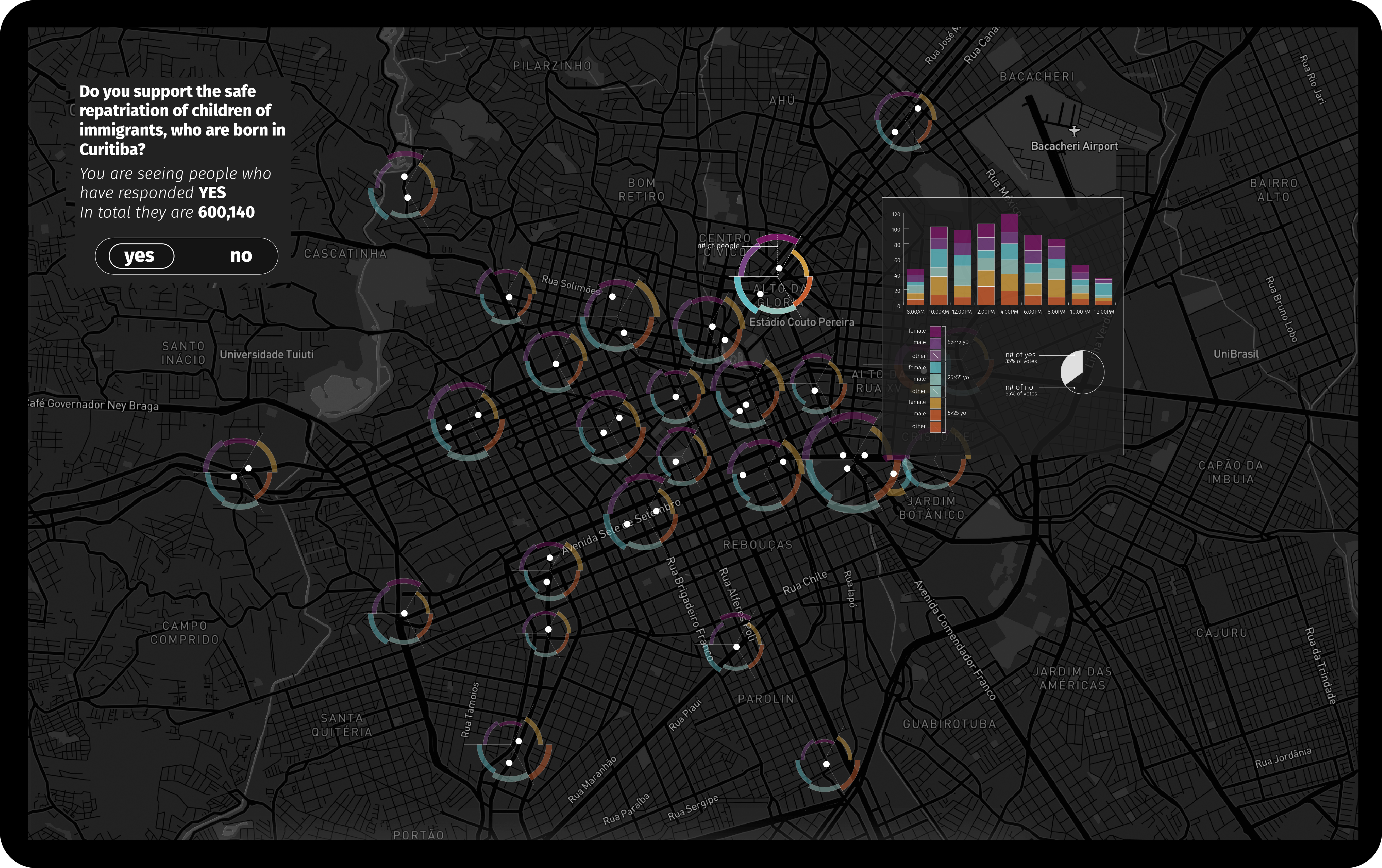 Eventually, the City of Curitiba is able to gauge and analyze voter sentiment towards specific topics, and ultimately better implement policies to respond to all.